Lamias pack is full of different color wolves. Wise and brave they are. Most of the females do not worry much for their pups, knowing being over protective will damage their strength to handle dire situations. Leaving many pups dead, this is sad none the less it happens and teaches pups dangers.
Most wolves do not act rashly. They think through the pros and cons before attack. Generally some think to long and time runs out, you might get a good smack to wake you up. We hardly turn down a fight unless we have young to take care of.
If someone finds danger in the territory they are to stall it from getting near the camp while someone else comes to tell everyone that does not know about the threat. Lamias are brave they fight with their life to protect their pack.
Swift and Strong We are. We are very strong and fast, for our build ranges around Medium to big. Our rnage of agility is low, for we tend to be on the biger size many of us can take hard hits without being able to dodge, keep in mind our blows are heavy as well if they hit!
The pack resides in the Bondi forest. The den is a small dug out underneath a big oak. Enough room for most of the pack to sleep. The Lamias pack only claim The North part of the forest as theirs leaving the rest for others. Hunts will go out weekly to take care of the Mothers and pups. Keep in mind the forest will shelter out some snow in winter but some still falls.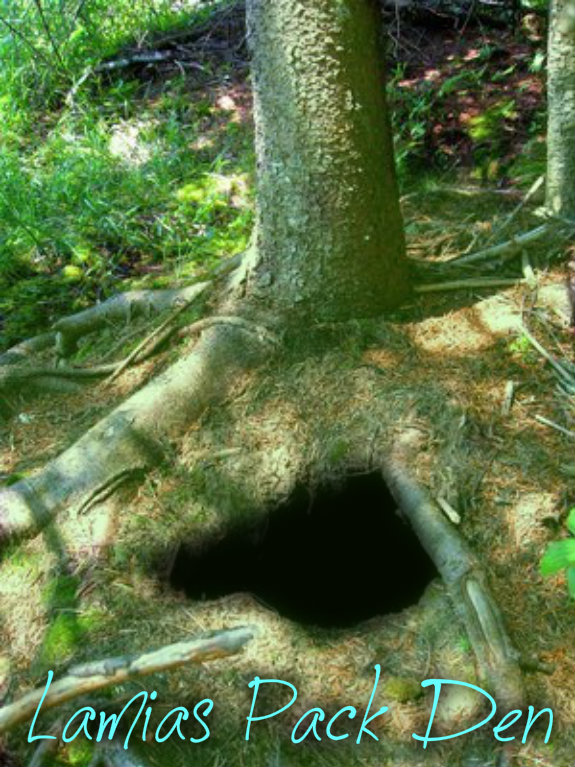 Alpha M (Eats first, will be chosen in rp, is in charge of pack)
Alpha F, Shunook (Eats First beside Alpha M, is in charge of whole pack)
Beta M (Second in command, Takes care of pups teaches them yada yada, next in line to be alpha has high respect and will be listened to unless told so by Alphas)
Beta F (Most likely mate to Beta M, second in command, takes care of pups and teaches em yada yada, Next in line to be alpha F has high respect and you know the rest)
Protecters (Protecters are warriors but more advanced, they are exceptional fighters and have great endurance. They have high respect for they give their lives often for the pack.)
Reapers (The reapers are hunters that  almost always bring back a kill, small or large doesn't matter. They are great listeners and hunt often, anytime they can they go hunt. They always be truthful to the alphas if they don't get a kill.)
Warriors (They protect the pack go on patrols and hunt sometimes while spending most of their time on the border or on the outside of the camp.)
Hunters (They hunt atleast once a week sometimes go on patrols, they usually try their best to scavenge any type of food that could help the pack)
Healers (Their can range from 1-4 Healers in the pack! They heal take care of the ill and wounded, hardly ever getting sick some wolves will be puched into this rank if the number falls to 1 if it is near war or winter.)
Mothers (We make mothers a rank for all the stuff they do its hard work wolves! They feed take care of their cubs yada yada soemtimes they go out and hunt once their cubs are 3 months old then ease into work again. They may choose a new rank if they wish, maybe once a protecter now a warrior to get their skills back up an yeah)
Kantees (Kantees are basically apprentices, they will be given a mentor once the aphas have talked to the family on what they wish to become and yeah. Pups become available for a mentor at 8 Months until they are two.)
Pups (Pups are the children of the pack they eat right after the alphas and betas then play mess around and get taught stuff until 8 months when they turn into Kantees)
Omegas (Their will only be up to 2 omegas a female and male, most likely the happeist and most hyper wolves in the pack, they get picked on and over all just ran over. These wolves eat last and are very special to the pack. They keep stress and anger away and keep the mood bright, They are not to be hurt!)
Eating Order

Alphas 

Betas 

Pups

Mothers

1. If a leader is not doing good for the pack he/she must be challenge for leadership or be booted.
2. Before anyone if their is a shortage of food the mothers and pups are to eat first!